CNBN In-Depth Client Profile: Chevrolet
Carbon Advantage for Chevrolet: $40m Carbon Reduction Initiative (CRI)
CNBN framed Chevrolet's strategic objectives/stakeholder engagement process to pioneer the largest US voluntary 8m ton CO2 carbon investment -- delivering measurable business advantage
Goals
Raise "green" brand awareness – esp. in younger target market
Drive more efficient grid for EVs via new carbon incentives
Shift stakeholder perceptions of Chevy's sustainability leadership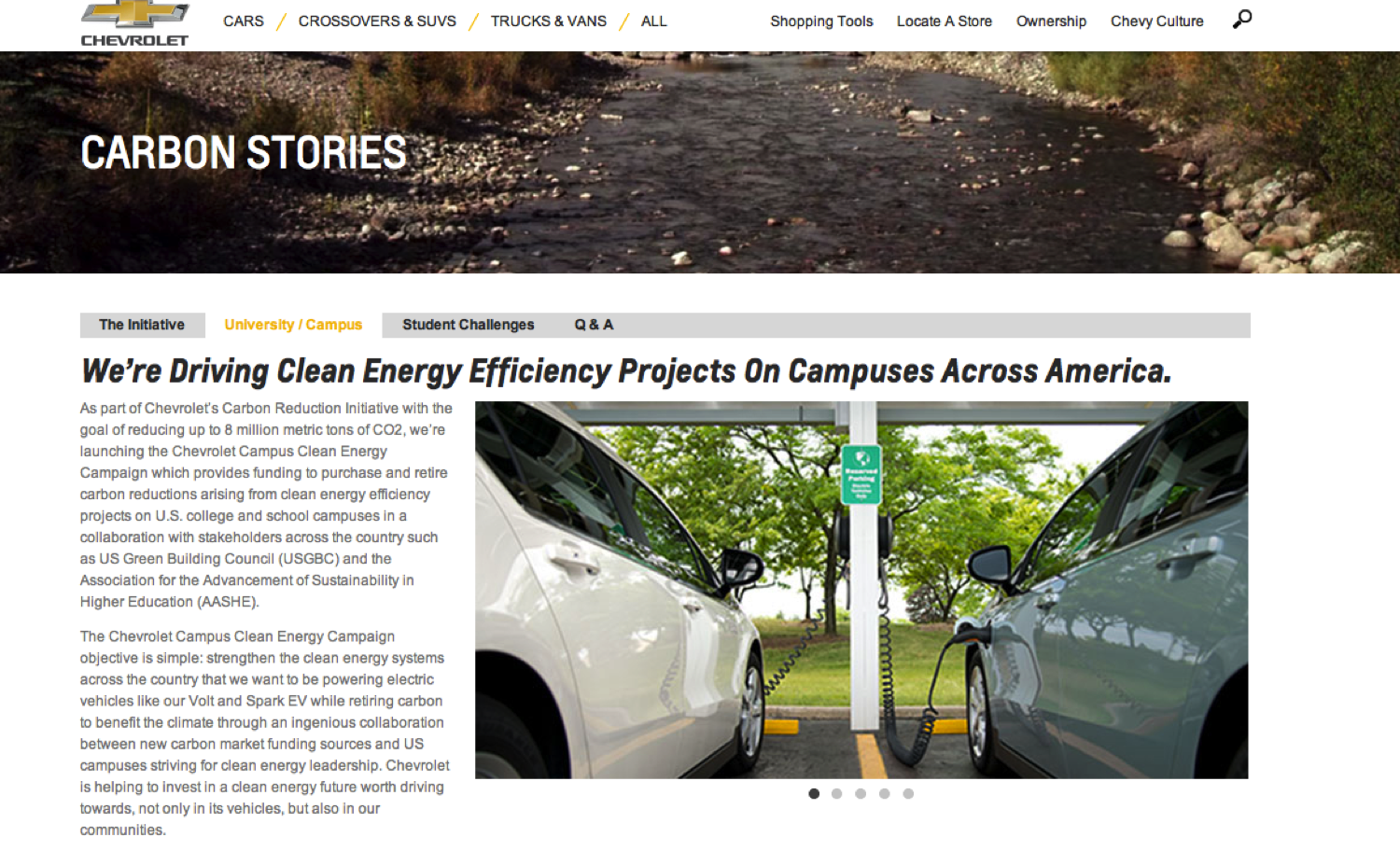 Results
CNBN designed for Chevrolet the largest 8m ton US carbon $40m investment strategy w/stakeholder advisory board
CNBN pioneered new carbon methodology to create energy efficiency project credits to open access to Chevy carbon capital for dozen US universities with Campus Clean Energy Campaign
Secured GM's first ever Best Global Green Brand award '14
Awarded EPA stakeholder partnership & Enviro-Leader 2015
CNBN convened #CleanEnergyU virtual dialogue: top trending throughout 2015 -- driving student social media engagement w/30m impressions
Invites to White House Roundtable as Campuses pledge to Act on Climate
Chevy's legacy continues with Second Nature and new clean energy road collaborations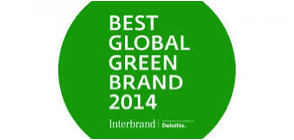 Chevy's CRI Defined New Paradigms For Carbon Market Leadership
CNBN designed the US's largest voluntary GHG reduction goal with Chevrolet's 2010 8m ton CO2 commitment – a new threshold from which other companies' GHG credit investments were then set correspondingly higher (e.g. Disney, Microsoft)
US voluntary volumes rise dramatically from 4m to 30m t/yr
CNBN pioneered US's first energy efficiency carbon performance methodology -- to open the door for universities to access Chevrolet's carbon capital to accelerate their clean energy efficiency performances
"A once in a decade achievement": Prof Koester, Ball State
Chevy's Campus Clean Energy Campaign: "transformative leadership"
"With Chevy this was MOON SHOT leadership … to transform the rules of the game"t
"Chevy created an entirely new template in the carbon market that multiplied their own leadership by empowering others to take the same high road."
"This wasn't the "here's a new framework" white paper theory kind of leadership. But "here's time, dollars on the table and we'll make it happen" leadership. They created an entirely new paradigm with the wheels to deliver on a new set of outcomes and market precedents. That's impressive leadership."
"When Chevy said they would pioneer a new methodology and fund campus credit projects to accelerate their clean energy performance in our communities – that was the step that took Chevy's CRI to a really transformative program."
"Chevy changed the rules of the game to change the shape of the playing field. You don't see this kind of transformative leadership very often!"
"Chevy's story tells us about the power of bringing together distinct voices and the ability this generates to make major pivots together – to transform and change the rules of the game"
"With Chevy this was MOON SHOT leadership when we were flying biplanes before"
"Chevy created an entirely new template in the carbon market that multiplied their own leadership by empowering others to take the same high road."
The Road to a Clean Energy Future
Campus Clean Energy Efficiency Credits: Ground breaking Methodologies/Projects
CNBN designed/wrote Chevy's ground-breaking campus methodologies, accredited by VCS – whose projects delivered on Chevy's demanding business objectives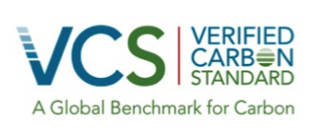 Goals
Accelerate US grid beyond Chevy's supply chain towards more energy efficient practices -- as foundation for EV autos' lower carbon performance
Pioneer energy efficiency carbon credit projects in US voluntary market
Open doors for universities to access new carbon capital – beyond Chevy's – to drive US energy efficiency practices
Engage millennial students on campuses
Results
Campus efficiency credits pioneered new paradigm, delivering benefits beyond companies' own supply chains -- to key market sectors where they have only indirect influence
$m's directed to dozen new campus Chevy clean energy efficiency projects
Hailed as a "moonshot" goal that delivered transformative leadership to change the rules of the game
Second Nature non-profit now taking Chevy legacy forward to expand campus credits for new purchasers
Extends capital sources to drive US efficient grid beyond Chevy's $40m
Radical new approach to engage millennial students as clean energy leaders via #CleanEnergyU dialogue
Ground breaking Methodologies/Projects: Chevrolet Campus Project Partners
Campus carbon revenues contribute 5-25% of projects' required incremental capital
Compelling Campus Business Case: Contribute 5-25% Required Incremental Capital
"The scale and business case behind Chevy's innovations are impressive for campuses: we could see up to a 2.5% increase in return on investment. This can really move the needle for campuses' investments."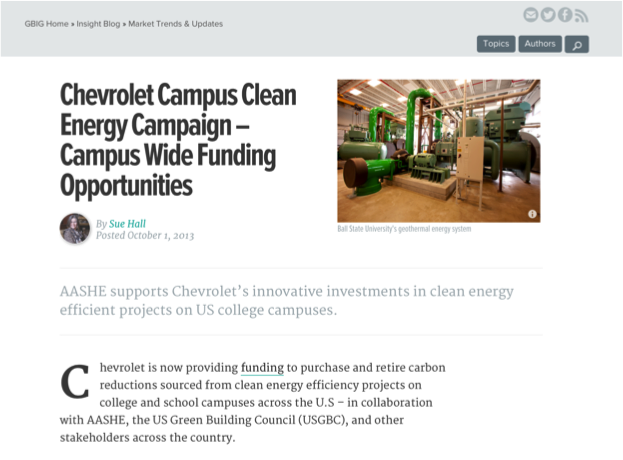 "Chevy's carbon credit funding transforms what we can achieve at UWSP.  My office's budget is $16k a year; after certification and student intern costs, I have about $6k left to drive change.  Chevy's revenues transform this picture: we're investing now in state of the art residential wind turbines that are not only a visible symbol of our GHG reduction progress but will also anchor students' research to help our community learn which installations will work best on their buildings too!"
— Dave Barbier, University of Wisconsin, Stevens Point
"The financing made available through Chevrolet can seed the creation of green revolving loan funds at colleges and universities; with such initial capitalization, colleges and universities can continue to pay forward the impact of current efficiency yields toward additional conservation and energy use reductions.  This is a virtuous circle that empowers campuses to pursue deep systems-thinking efficiencies.  It's a great way to find new roads to travel together towards a clean energy future."
—Prof. Bob Koester, Ball State University
Innovative Marketing/Communication Results: For Chevrolet CRI and #CleanEnergyU
Chevrolet Brand Value

Goals
Increase Chevy's brand value
Change perception of the brand
Results
Secured Chevy's first Interbrand Green Brand rating by 2014
Successfully repositioned the brand according to stakeholders
Stakeholder perceptions shifted from "dinosaur", "old school manufacturer" to "transformative leader … alongside Google on steps of the White House".
#CleanEnergyU Millennial Engagement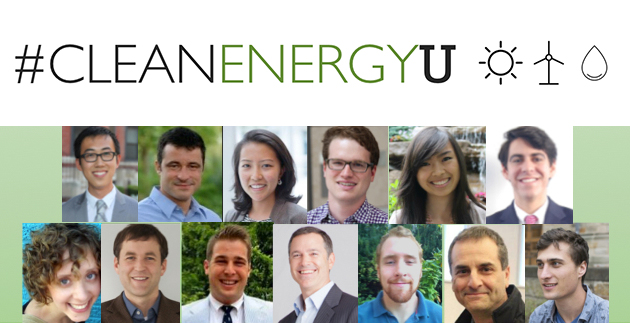 Goals
Pioneer Chevy's Carbon Reduction Initiative' social media campaign to effectively engage young target market
Results
CNBN convened #CleanEnergyU social media conversation, co-designed by student leaders
Gained 30m social hits in just three 2015 dialogues, all top trending on twitter
Opens new virtual conversation w/student & clean energy leaders
Invited by White House to introduce Campuses Act on Climate Roundtable, Nov 2015
Campus Clean Energy Campaign: "repositioned the brand successfully"
"For a millennial, it's 'show me you understand the bigger picture, your role in it – and partner with us like Chevrolet did'. They engaged with students in dialogue on #CleanEnergyU and empowered them to become the next generation of clean energy leaders. Now that's a legacy that will be worth remembering for them!"
"Other companies should look at Chevrolet and realize that it's no longer business as usual to just make money and have a fiscal return on investment. They need to contribute a positive return on our natural capital, and keep up with the new B Corporations: the millennial generation and even my generation are expecting this."
"CRI allowed Chevy to stand alongside companies like Apple and Google at the White House making a pledge for the climate by 2015 . Honestly, it would have taken Chevy forever to get in this elite circle of consideration if they had done it purely by conventional means … It would have been a 15 year journey to get to that White House platform with just "the better car" route … CRI leapfrogged them to a completely different level of visibility and leadership in just 5 years."
"As a result of CRI, Chevy clearly repositioned some dimensions of its brand successfully – otherwise you don't show up on those Interbrand GREEN brand rankings which are the independent third party brand value metrics."
"#CleanEnergyU -- fascinating dialogue at the right time and right place, as the recent White House calls demonstrated!"
"From a brand perspective, #CleanEnergyU significantly broadened Chevy's communications through a social media channel that engaged a key millennials in new and exciting ways "